It's not at all what I expected.
I found myself surprised in a good way. It's none of this "I'm going to flash you so that you can give me some beads" crap that they portray in the media. Granted, you can probably find this on Bourbon Street, but that's not at all what I saw. My experience was that Mardi Gras parades and celebrations are all family events. People take out their grills, coolers, and foldable chairs to sit in the street medians while watching the parade floats go by. You also get cool stuff like parade specific beads, cups, coins, and stuffed animals thrown at you as you're cheering on the parade floats. It's awesome! I have at least 20 pounds of beads that were thrown at me. I made it my goal early on to get a parade specific cup for each one that I saw. I also have about three toy footballs that I plan on using while playing catch with my students. Last night I got a cheetah stuffed animal thrown at me. This might all sound childish but it's a ton of fun. Just the idea of, "Ooh I don't know what you're throwing at me, but I want it!" I felt like a kid. My favorite beads were the red and orange ones.
My roommates and I got up early this morning to be in a parade. I think it was called the St. Ann's parade? Can't remember because I was half asleep. The premise is that if you show up in a costume, you get to be in the parade. We all showed up in costumes and got to dance while a brass band with great beats was playing down the streets with hundreds of other people wearing costumes. My roommates dressed me up.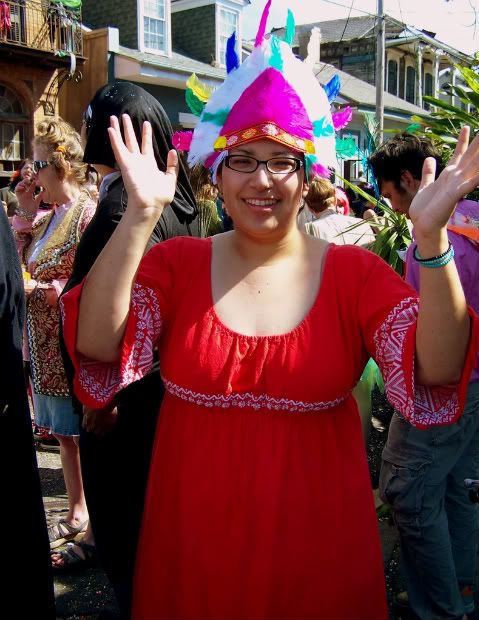 I've walked and biked many miles these past five days. I also ate a lot of junk, but it all balanced out. Did I mention that I was sober throughout all of this? My only regret is that my closest friends and family weren't here with me.
My life has never been this colorful.
I don't even know how to begin summarizing these past couple of days. Long story short though, Mardi Gras is a huge deal around here. I've attended a total of 11 parades since last Thursday.